Naming Opportunities
The Kenworthy Performing Arts Centre is pleased to offer a limited number of prominent naming opportunities for you to choose from. We look forward to the opportunity to take you through the space to discuss your options. Currently there are 55 seats available to name.
By naming a seat at the Kenworthy Performing Arts Centre, you make a lasting impression and support your historic, downtown performing arts centre and art-house theater.  For a one-time, tax deductible contribution of $1,000.00 we inscribe the name(s) or message of your choice on a plate on the armrest of a seat in our beautiful 275 seat historic theater.
• Name a seat in honor of friends and family or in appreciation of a teacher, mentor, or other special person in your life.
• Place your own name on a seat as a statement of your involvement and support of the KPAC.
• Place the name of your business or organization on a seat to demonstrate corporate involvement and support of the mission of the Kenworthy Performing Arts Centre.
•  Name a seat in honor or memory of a loved one.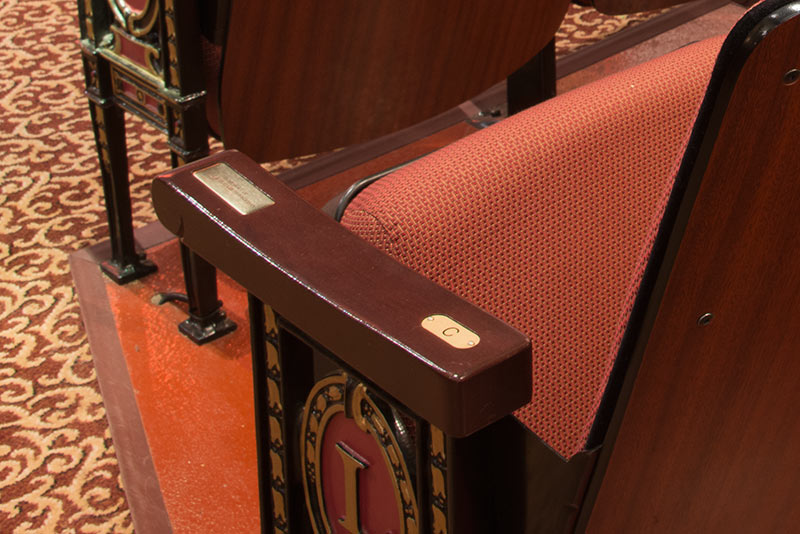 Your Plate
•  The name plate remains in place for the life of the seat making this essentially a permanent naming opportunity.
•  Inscriptions will be published on our website for one year.

Contributions
All contributions are tax deductible to the extent provided by law and will be towards the our capital campaign goal of $195,000. Gifts to the campaign will pay for new seating, floor restoration & repair, ceiling & aisle lighting, and more.
If you're ready to say 'YES!'  you can:
Download and mail in this pledge form to PO Box 8126 Moscow, ID 83843. 
Call 208.882.4127 any time from Monday-Friday, 9am-5pm, to make your contribution over the phone.
Questions? Contact Christine Gilmore at director@kenworthy.org or call 208.882.4127.
Thank you for investing in the arts and in your local Moscow community!